Unfavorable road conditions can lead to serious accidents and even fatalities. Drivers need to be aware of the dangers and take steps to protect themselves and their passengers. Whether it is because of poor road maintenance or bad weather conditions, you can never be too careful when driving on DANGEROUS ROADS. Here are a few tips to keep you safe and make sure there is no need for emergency towing!
WHAT CONSTITUTES DANGEROUS ROAD CONDITIONS?
Dangerous driving conditions can vary depending on the location and nature of the conditions. In some cases, it may be due to poorly maintained roads, while in others, it may be because of bad weather conditions or even the nature of the slope. It is important for drivers to be aware of their surroundings and plan their routes accordingly.
HOW CAN YOU STAY SAFE WHEN DRIVING ON DANGEROUS ROADS?
There are a few things you can do to stay safe while driving on dangerous roads:
PAY ATTENTION TO YOUR SURROUNDINGS AT ALL TIMES.
This may seem like common sense, but it is important to be vigilant when driving on dangerous roads. Be aware of any potential hazards and consider them when making decisions while driving. This may include things like potholes, ice, or even animals crossing the road. You can avoid potential accidents by paying attention to your surroundings and other drivers.
DRIVE DEFENSIVELY
Defensive driving is especially important on dangerous roads. It means being aware of other drivers around you and anticipating their actions. If someone is driving erratically, give them a wide berth and do not engage in any aggressive behavior yourself. By remaining calm and focused, you can avoid escalation and maintain control of the situation through defensive driving. Driving defensively can also mean driving slower if you need to, such as in poor weather conditions or poorly paved roads, to avoid getting into an accident.
KNOW YOUR VEHICLE
It is important to know the capabilities of your vehicle before driving on dangerous roads. This includes things like its stopping distance, how it can handle different weather conditions, and blind spots in traffic jams. By understanding your vehicle's limitations, you can ensure that you are not putting yourself in a dangerous situation.
PLAN YOUR ROUTE
Before setting out on your journey, take some time to map out the safest route possible. This may mean avoiding certain roads or taking a longer route overall. By planning ahead, you can make sure that you are not driving into any unnecessary risks. It also prepares you for any potential road closures or detours that you may encounter.
STAY UP TO DATE WITH THE CONDITIONS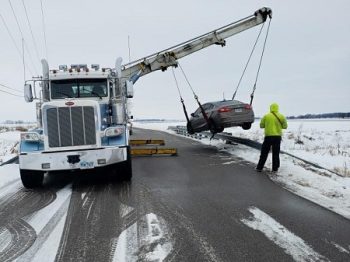 Make sure to stay informed about the current conditions of the roads you will be driving on. This includes things like weather forecasts and road closures. ONE OF THE MOST DANGEROUS ROAD CONDITIONS IS BLACK ICE. Black ice is a thin layer of transparent ice that forms when there is water on the road. It freezes over during freezing nights. Keep up to date on conditions like this when it is very cold outside. This is It will also go a long way in helping you plan your route so that you can avoid any potential hazards during adverse weather conditions.
ENSURE YOUR BRAKES ARE IN GOOD CONDITION
One of the most important safety features of your vehicle is its brakes. Before driving on dangerous roads, ensure they are in good working condition. This includes things like checking the fluid levels and pads. You can guarantee a stable drive by ensuring that your brakes are in good condition. This is especially true in icy or wet conditions.
PAY ATTENTION TO ROAD SIGNS
Road signs are put in place for a reason and should always be followed. They exist to warn drivers of potential hazards and help them make informed decisions while driving. As such, they will come in handy when driving on dangerous roads and could be the difference between a safe journey and an accident-prone one. So, make sure to always pay attention to road signs to drive safely!
ENSURE THAT YOUR VEHICLE IS PROPERLY MAINTAINED
This includes things like REGULARLY CHECKING THE OIL LEVEL AND TIRE PRESSURE. You can avoid potential breakdowns and accidents by ensuring your vehicle is properly maintained. This is especially important when driving on dangerous roads. The last thing you want is to be stranded in the middle of nowhere with a flat tire!
DRIVE ON WELL-TREADED TIRES
Your tires are an important safety feature of your vehicle. They provide traction and stability for your driving skills. As such, it is important to make sure that they are in good condition before driving on dangerous roads. This may prompt checking the tread and inflation levels. By driving on well-treaded tires, you will have an easier time driving. As a precaution, it is also important to ALWAYS DRIVE WITH A SPARE TIRE in your car.
NEVER TEXT AND DRIVE
Texting and driving is never a good idea, no matter what the conditions are. It is a form of distracted driving that can lead to accidents. So, make sure to put your phone away before getting behind the wheel. By avoiding distractions, you can focus on the task at hand and drive more safely.
STICK TO SPEED LIMITS
Speed limits exist for a reason and should always be followed. They are in place to help keep drivers safe by ensuring that they are driving at a safe speed. This is especially important when driving on dangerous roads where a simple mistake may lead to a nasty situation. Sticking to the speed limit improves your chances of arriving at your destination safely, especially in poor weather.
YIELD TO RIGHT OF WAYS
When driving on dangerous roads, it is important to yield to the right of way. This is especially true when you encounter emergency vehicles and pedestrians. By yielding to the right of ways, you can help keep everyone safe. So, make sure to always yield when necessary and work on your defensive driving techniques.
TURN YOUR HEADLIGHTS ON
Headlights are not just for night driving. They are also useful in daytime conditions, such as when there is fog or heavy rain. By turning your headlights on, you can improve your visibility and avoid unnecessary collisions. You will also give oncoming traffic a chance to see you, which can help avoid accidents.
CONTACT US TODAY!
At Ed's 24 Hour Service, we take great pride in helping drivers in their most desperate hours of need. We offer EMERGENCY TOWING IN UPPER SANDUSKY and can help you with a flat tire, a dead battery, or even an empty tank of gas. Our experienced staff is here to help, so please don't hesitate to give us a call!
Check out our RELATED SERVICES:
Roadside assistance
Maintenance services
Engine repair
Roadside repair and flat tire replacement services
Commercial towing
Heavy-duty towing
Read more about our company, Ed's 24 Hour Service, on our About Us page.